Dale Lewis – Senior Pastor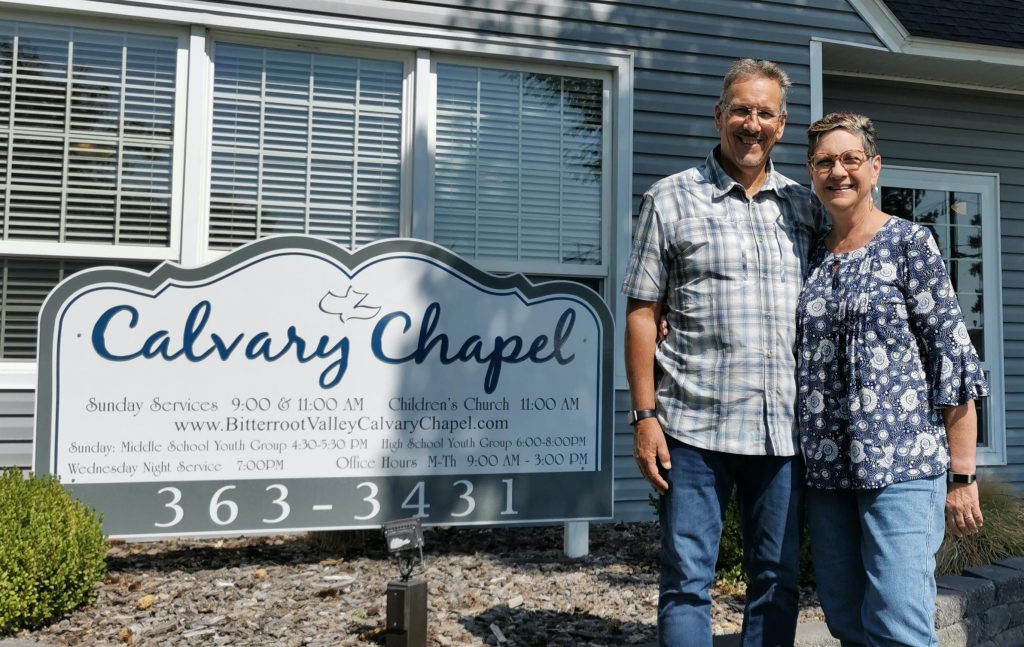 Though I was born in California and raised mostly in the Central Valley I'm Montanan by choice. Raised without a father before my 5th birthday I grew up in an abusive home. I've lived on my own before I graduated from high school.
I ended up marrying my high school sweetheart, Donna in 1979 shortly after she graduated from high school. Almost simultaneous to the beginning of our marriage I became an apprentice goldsmith. I continued to earn a living as a goldsmith from then on until I left that profession for full-time ministry.
We remained in Calvary Chapel in Monterey Bay for 7 years where I was discipled, served and received verse by verse teaching. I was led into ministry and left for Bible College in San Diego. I have been a senior pastor since 1987 both in Merced, California, at Calvary Chapel Merced for 17 years and in Hamilton, Montana, at Bitterroot Valley Calvary Chapel where I relocated in 2005.
My beautiful wife of 40 years went home to be with Jesus after a courageous fight with Leukemia. I have recently been blessed by God to remarry to another wonderful woman of God, Denise who shares the same passion for Jesus and service as Donna and I had.
We are truly blessed to be a part of this fellowship! As the Senior Pastor and primary Bible teacher it is a privilege to mentor these wonderful saints. I enjoy being able to spend time with my bride as well as our children and six grandchildren. We also enjoy short term missions serving where ever God sends us. Our ministry here at Calvary Chapel is designed to go through His word verse by verse with the aim of moving us closer to Jesus. The greatest thing in our life is knowing Him. At the end of my life I want to be an example of an ordinary man loved by an extraordinary God!
Nicole Mendonca – Office Manager
I grew up in the central valley of California. I gave my life to Jesus at age five, and since my dad is a pastor I grew up in and around ministry. I served and helped in Sunday school as an early age.
After graduating from high school I attended Calvary Chapel Bible College from 2001-2003 in Murrieta, CA.
I moved to the Bitterroot Valley with my husband Dan in 2006. I have been the Office Manager at Bitterroot Valley Calvary Chapel since 2007 and the bookkeeper since 2012.
I serve in the nursery and am Co-Coordinator of MOPS (Mothers of Pre-Schoolers).
My greatest joys are my husband and three kids, photography and using the creativity God has gifted to me.
My heart for the people of the Bitterroot Valley is for them to know the love of Jesus.
Bryan Perkins – Associate Pastor/Youth Pastor
I was born and raised in the LDS church. I was a member up until the time I was about to go on an LDS mission at 18. I came from a broken home and my upbringing was very difficult. I felt very alone as a teenager. The true Jesus of the Bible came into my life and I couldn't remain where I was. For the next 2 ½ years I studied world religions, surrounded myself with "gurus", and became consumed by the way of the world. These were the worst 2 ½ years of my life. There was a time when drinking, partying and drug use were a weekly part of my life.
I almost committed suicide, but Jesus stepped in at the moment of decision. His Spirit spoke to my heart and clearly revealed His truth. He led me by His loving kindness and answered all my questions. I was ready to embrace Jesus. I then began to grow in my relationship with Him.
Shortly after that I met the woman who would become my wife. In 1996 Nikki and I were married. We have three children, Katelyn, Kyle and Krysten. We have served in various ministries throughout the years both as individuals and as a team.
I was given an opportunity to work with youth at the first church I attended after coming to Christ. I was stirred with compassion for them. I was especially empathetic toward those with troubled pasts and difficult situations.
I was also appalled by the deceptions I had been under for so long and I desired never to be deceived again. I had a hunger for truth and a compassion for those who have also been deceived. I grew in a desire to reach anyone I could and to reach those who didn't know the love of Jesus I had come to know. I was especially empathetic to the youth and for those who have been deceived.
I began to unveil and unravel the contradictions within the LDS scriptures through careful study. My research continues to this day. As a former LDS member who is now a believer in the Jesus of the Bible, I've been put in a unique position. What began as desire to know the truth became a passion to reveal it to others; to offer them freedom.
I have worked with youth groups since 1997. I have worked in Christian apologetics since 2005. I currently work full time with UPS and as an Associate Pastor/Youth Pastor with Bitterroot Valley Calvary Chapel. I have been ordained since February 2017. My journey to, and within the Bitterroot Valley has been miraculous.; laden with pain, joy and growth.
I am blessed and humbled beyond words to serve in this capacity and look forward to many more years of God working in and through me, wherever He may lead.
Lee Maxey – Facilities Manager
I was born one of three kids, a brother and a twin sister. I was born-again in 1977 through the witness of a childhood friend.
I've done many jobs throughout my life. I've worked as a busboy, a reserve police officer, in heavy construction, as a hard rock miner, a gunsmith, a welder, a cook, a custodian, a carpenter, a maintenance man, and a boiler operator. I served in the United States Army Airborne.
I love to read the Word and pray. I enjoy building things, reloading, shooting, hunting, fishing and exploring the wilderness of God's creation.
I began serving at a Calvary Chapel in the late 80's in San Juan Capistrano, California. I've attended Bitterroot Valley Calvary Chapel since 1998.
My chief joy is to know Him more each day. I appreciate being around those of a like-minded spirit. I also love to see others come into a personal relationship with God through His Son Jesus Christ.
As facilities manager it's my responsibility to make sure that those who come to BVCC find a place that's well cared for. That this is an inviting place of warmth and comfort. My desire is that people will come to know Jesus Christ, and that they will find welcomed with the love of Jesus here.
I desire that the people in the Bitterroot Valley will take hold of Jesus. That they would know the Truth and be set free to whatever purpose God has for them.